After only a few months of operation the NFC of my Google Nexus 5 suddenly stopped working. As discussed here, I expected a loose contact between the motherboard and the NFC antenna, which is integrated in the phones back cover.
Unfortunately the proposed fix to press down the cover somewhere on the right hand side of the LED-flashlight until you hear a "click" worked only temporary (while pressing) for me.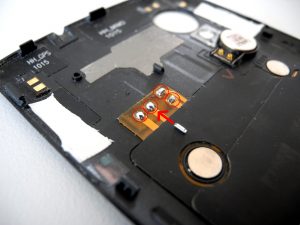 When I just had to repair a broken screen last week, I identified four broken contact springs on the motherboard to be responsible for the NFC antennas connection problem. Soldering four (very) small pieces of a paper-clip on the contacts did the trick for me. Now NFC works fine again! 🙂
Note: Everything you do is at your own risk. Please only try this if you know what you are doing and be careful not to destroy your phone!